2013
21st April - Drive it Day
The day started off sunny later turning to overcast and light rain, 5 cars (3 TR6s, Stag and TR4A) meeting up at Cross Keys, Taunton leaving at 10am for Exebridge to meet up with Dave and Mike at The Anchor, where we stopped for coffee and bacon rolls (well some of us did). We then set off on one of Dave's routes over Exmoor, where we stopped for more refresments and suffered the cold winds of Exmoor brr!! it was draughty. Setting off again after Steve managed to get his car started (didn't play up anymore thank goodness), we headed for Lynmouth where the drizzle started, Nick headed back once we met the A39 as he had someting pre-arranged back home, the rest of us carried on, having parked up hoods up, Lyn decided to stay with the car and admire the scenery the rest of us visited The Bath Hotel for sunday lunch very nice it was to. having refueled with fine food, drink and good company we decided it was time to head back having had a very good run out. Thanks to those that turned out, Chris&Anne, Mark&Diane, Steve, Nick, Dave&Lyn, Mike&Val and of course ourselves Malcolm&Sue. Many thanks to Dave for the route planning.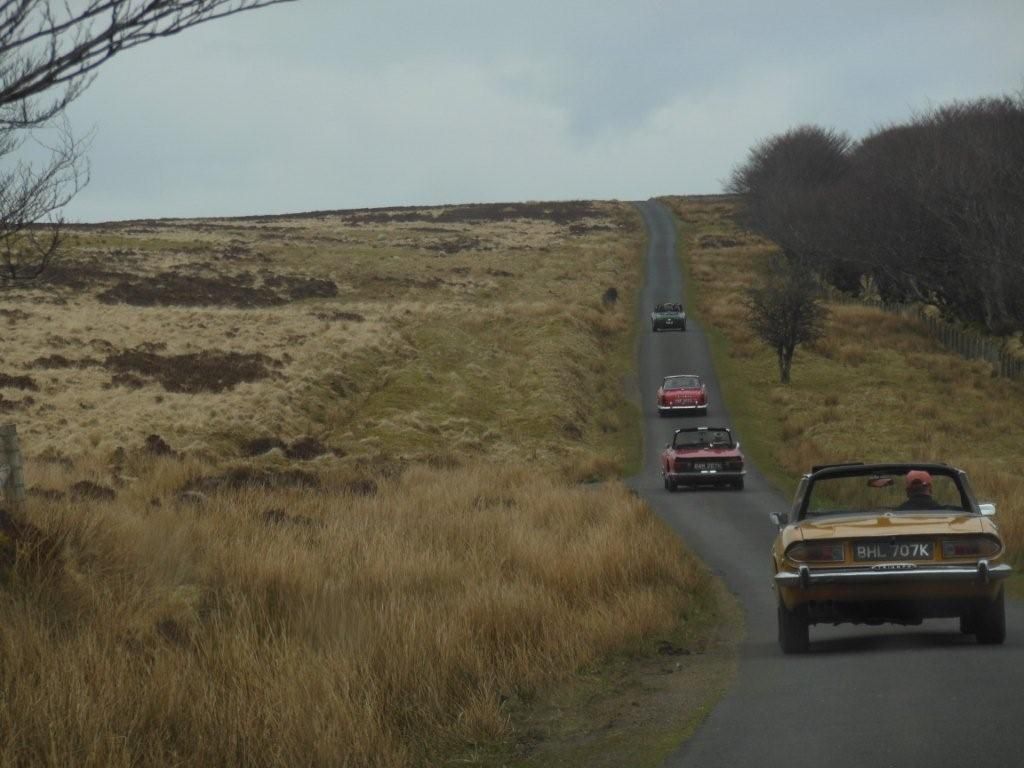 &nbsp
&nbsp
---

31st March - Pageant of Transport WSM Beach Lawns, - Only three cars turned up apparently for this event from our group,they also met up with other known enthusiasts, I am told that Mike managed to get his car photographed for the Weston Mercury again See Here, all in all I am lead to believe that it turned out to be a reasonable day a bit chilly at times but a good time had by all. Great interest it seems on a "Rover 150" with two front ends connected and driveable!! See Here
---

24th February - Sunday Run/Lunch
Meeting up at the Crosskeys, Taunton for 10am, 5 cars - 2 TR6s', Lotus and 3 modern vehicles braved the weather Alan & Leslie were intending to go on the drive but for some technical difficulties with the TR3 which we didn't know about until later, with snow falling started off up to Minehead for a coffee in the cafe on the station car park, those in classics with roof down having thawed out we went back to Taunton Rugby club for lunch where we met up with another 7 from our group,not a bad turnout considering the weather conditions.
---

Limpley Stoke – January 2013
Most of us managed to arrive on Friday following the artic conditions and we met up as usual in the hotel lounge – all bringing tales of icy challenges on their journey to this year's LS weekend. With snow on the folds of the hills and frost covered trees – made the countryside look wonderful. Helen had arranged our usual evening meal at the Hop Pole Inn. Saturday – after a hearty breakfast a walking party assembled to discuss tactics and decided to walk the canal tow-path in the direction of Bradford on Avon. All suitably attired we made our way joining the Kennet and Avon canal opposite Limpley Stoke Mill. Soon finding a comfortable pace, it was not long before we were upon the aesthetically pleasing Dundas aquaduct built by John Rennie. It carries the canal over the river Avon. Our thoughts turned to refreshments – time to stop nestled on the towpath by Avoncliff Station, one of the oldest buildings in the area. The Cross Guns provided us with heated beverages and a welcome break. Time was short and as we continued pass the ice-flows and barge folk gathering winter fuel we eventually fetched up at the Barge Inn at Bradford on Avon for a light lunch – all that was required now was some more energy to walk back to the hotel. When we arrived back at Hotel we were pleased to see that Chris and Anne, Tina and Mac had managed to join our party. The other group decided to catch public transport into Bath in search of pain relief for Sue's tooth ache once that done we headed for refreshments at the old Green Park Railway Station built in 1870 and now has an undercover farmers market and other curiosity shops and stalls. Then off for some retail shopping before heading back to the hotel for the evening entertainment.
Saturday night all washed and dressed meeting place as usual, amazing how many people can get into Helen & Mario room (see pictures). The festivities in the dining room began with the usual 'whistling balloons' fun had by all and food wasn't bad either. Once the disco started up off went the usual group to bogie the night away. I believe everyone had a good weekend despite the weather conditions.
Many thanks go to Leslie and Sally of Glavon Group for the organisation.
Thanks to Mark and John for the photos.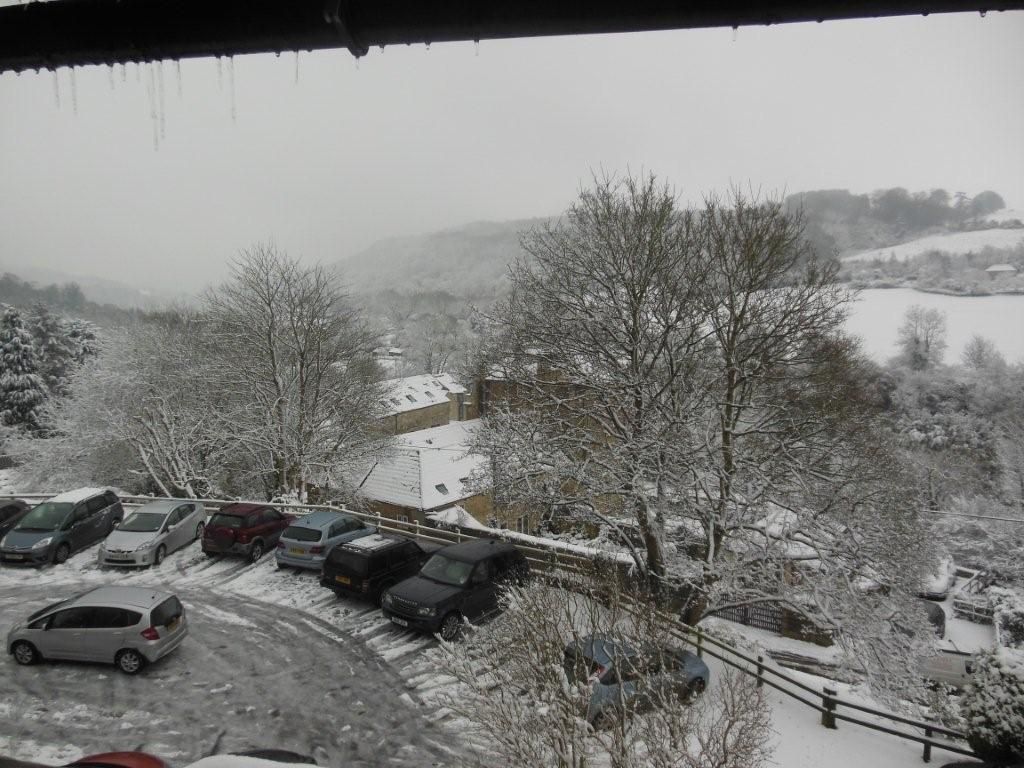 &nbsp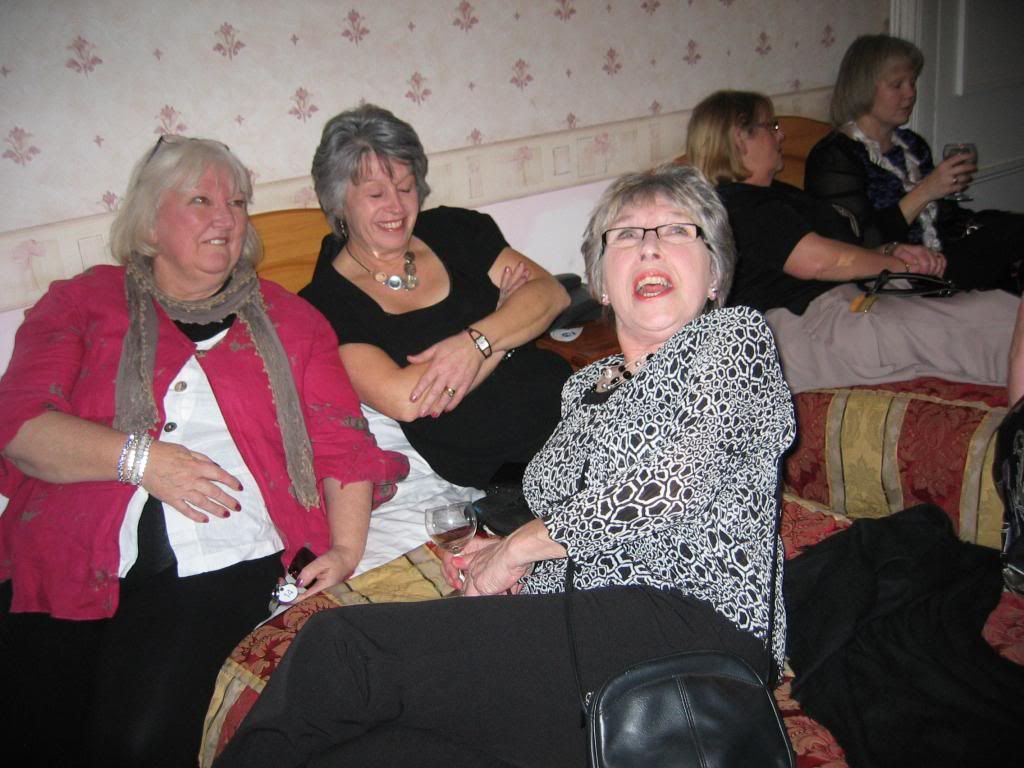 &nbsp
&nbsp

&nbsp
&nbsp
&nbsp
---

2012
Xmas Meal - Saturday 8th December @ The Maypole Inn
The event was well supported again 27 of the group gathered for a night of festivities, much better held in the function room, food was very good and plenty of it. Thanks to Helen and Mario for organising the quiz got some grey matter working overtime together with the traditional "whistling balloons" around the room. What a great finsh to the year. Lets hope the weather in 2013 will be better and allow us to enjoy our open top motoring. Thanks to Ann for the Photos mine were rubbish.

&nbsp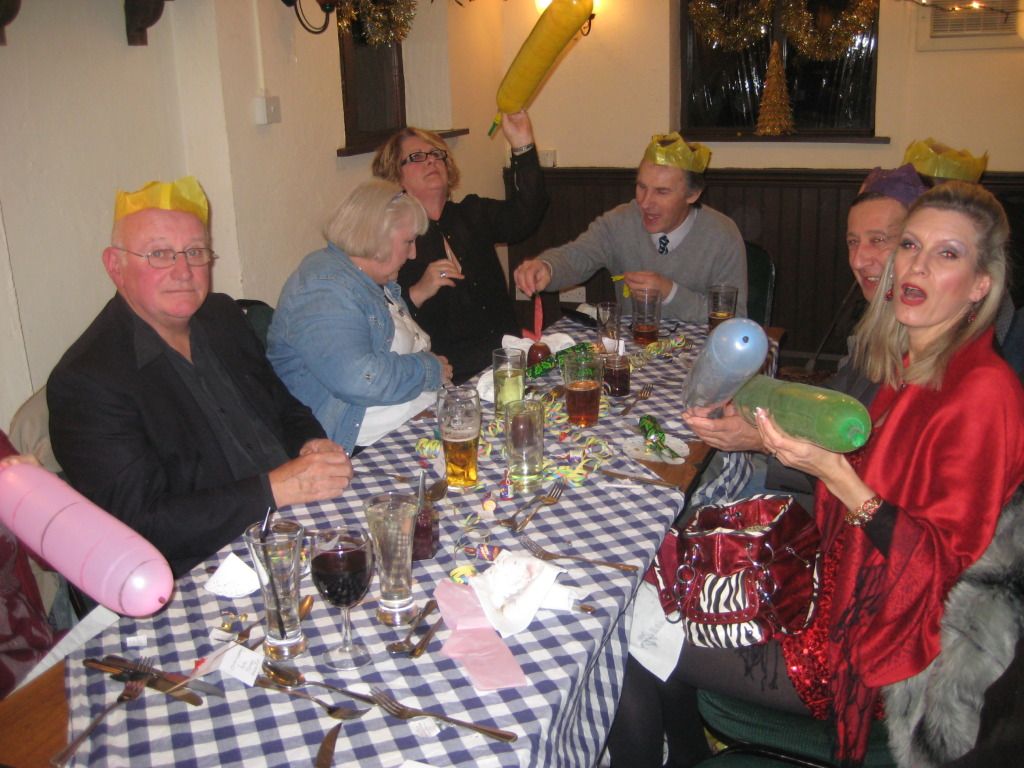 &nbsp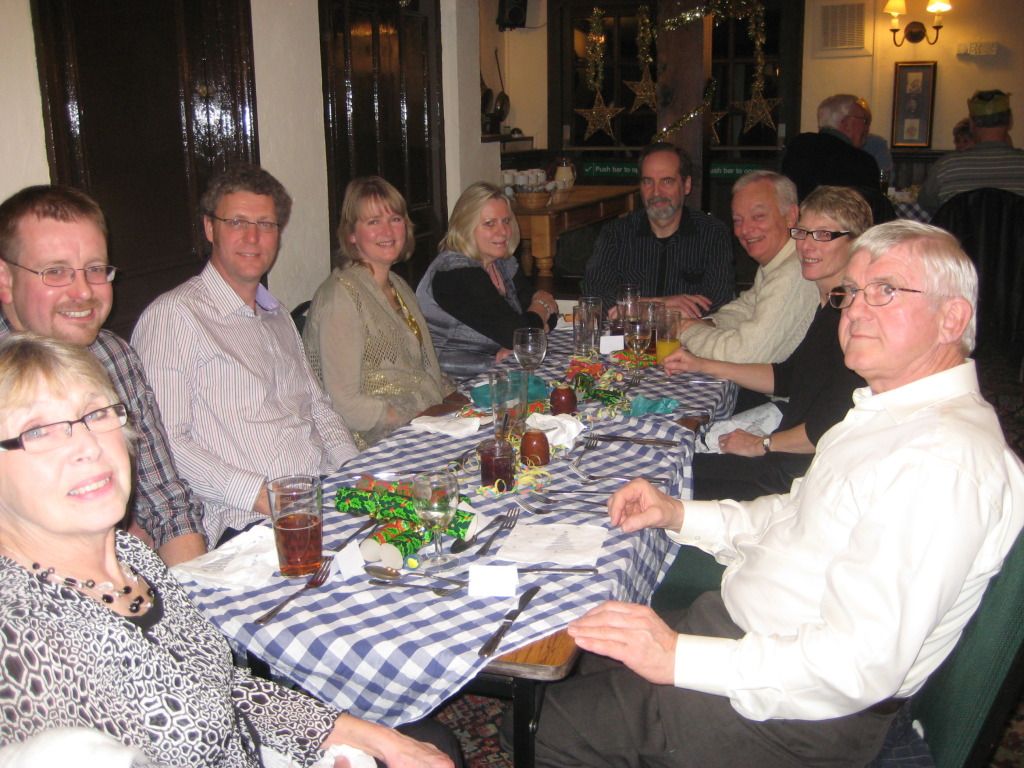 &nbsp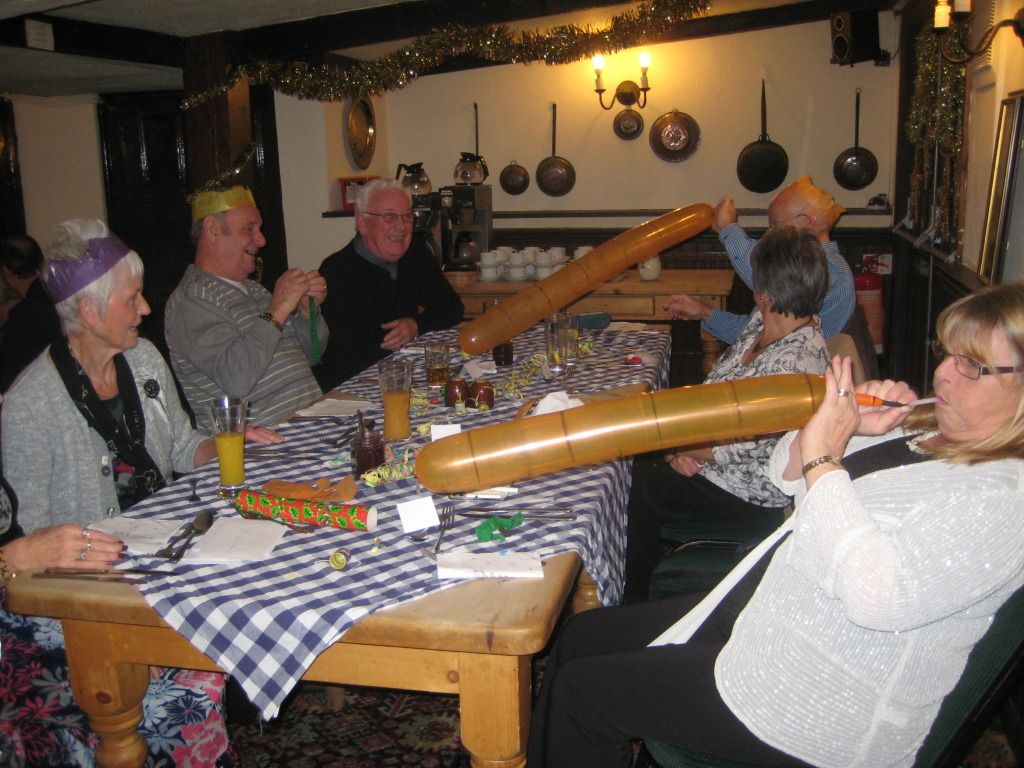 &nbsp
---

Le Jog – Saturday, 1 December 2012
A small group of us journeyed down to deepest Devon where we provided marshalling at 'The fox and Hounds' Eggesford. The hotel acting as control numbers 4 and 5 plus a 45 minute lunch stop. After meeting with the opening crew Tony operated control no. 4 and Dave was on car parking areas. 61 cars in the main event including no less than 9 TRs and a Triumph 2000 Mk 2 plus 6 cars doing the tour section only. It was good to see some members of the Devon Group stopping by with much needed support.
---

Sunday lunch – 18 November 2012
Now that most of the shows and runs are over for this year, a group of us met for a Sunday Carvery at the Taunton Rugby Club. We had a most enjoyable time at the round table in the first floor restaurant, where we were served excellent food and drink.
---

Crofton Beam Engines - 30th September
The day turned out a number of cars 3 TR6s, TR4A, MGF and some modern cars, meeting up at Chris & Annes in Wells for bacon rolls and coffee before setting off to the wilds of Wiltshire. We all managed to stay together to our first stop at the Caen Hill Locks on the Kennet and Avon canal, a short walk along the tow path to the small and well stocked cafe for coffee and buns more food!! this is a wonderful fete of engineering 29 locks rising 237 feet in 2 miles, I believe is takes a barge some 3 to 4 hours to negotiate all the locks. We then set off for our destination at the Crofton Beam Engine site where they were holding a 2 day steam festival. We managed to loose one car who did find us in the end, classic cars were allowed to park in the main car park where we found members from the Wessex TR Group. The day was cloudy and the wind got up around the canal but at least the rain kept away, we headed for the nearest pot of coffee and food. There was plenty to see around the site from plouging demonstration, folk dancing, steam engines and of course admiring the wonderful Beam Engines used for pumping the water up into the canal. There was also a coracle on the canal if you were brave enough to have a go. Many thanks go to Chris for suggesting and organising the day and not forgetting Anne who prepared the refreshments at the beginning of the day. A good day out I think.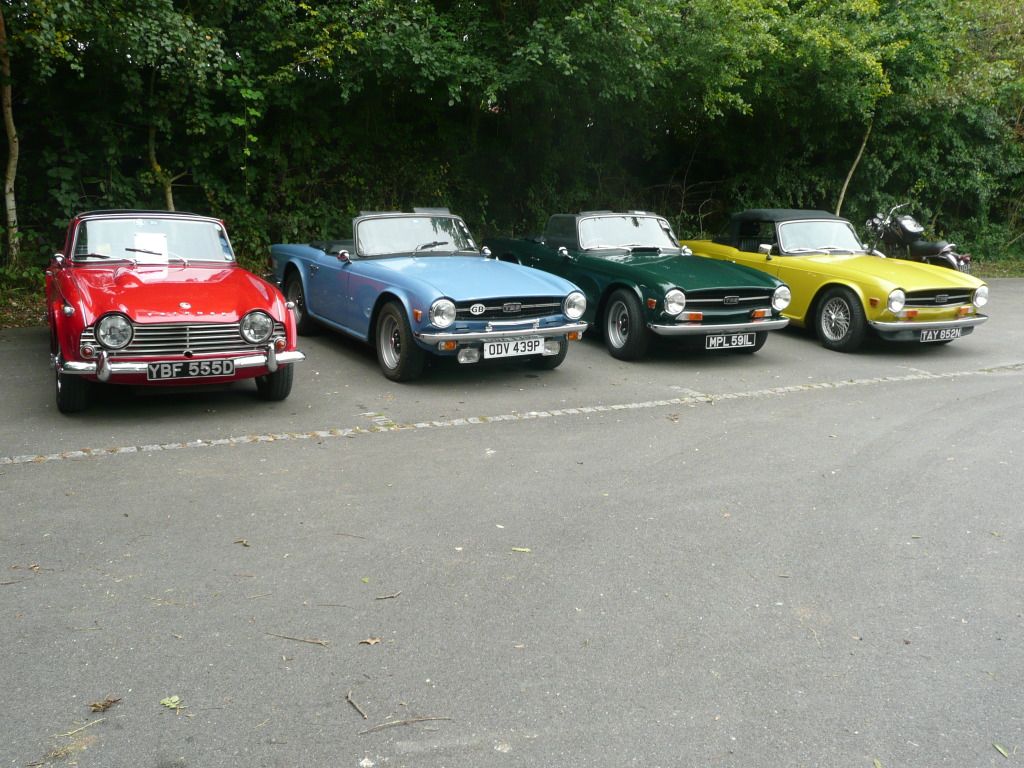 &nbsp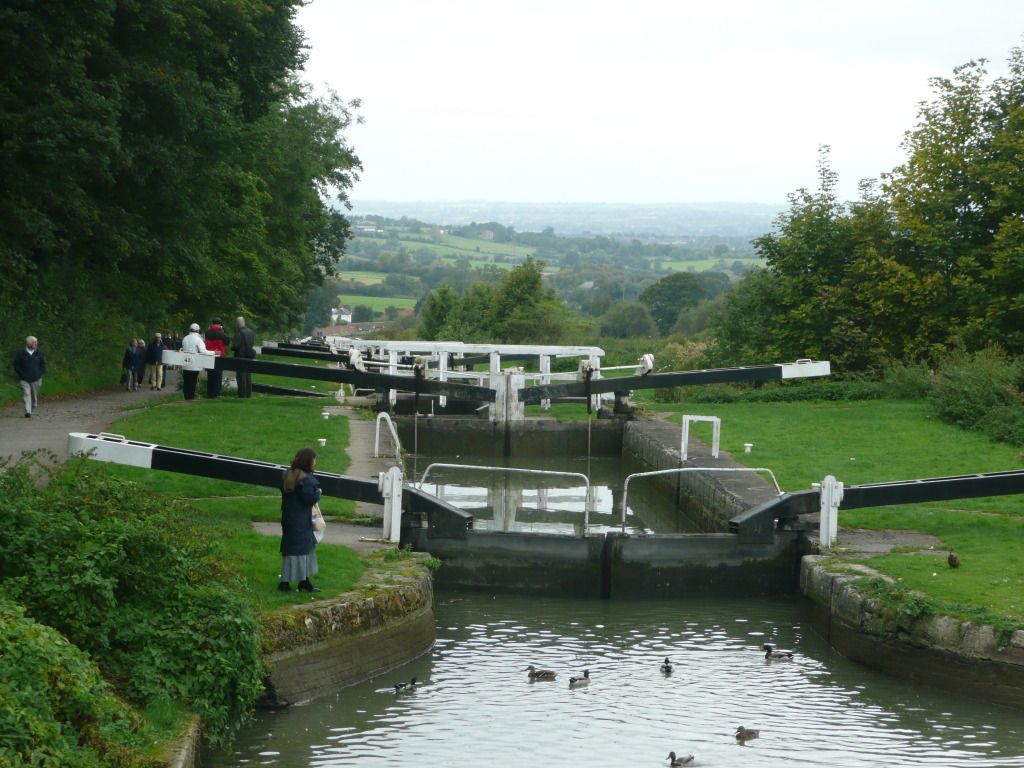 &nbsp
---

Knightshayes Court NSPCC - 9th September
A few cars turned up for this very pleasant day out at the National Trust location although we did not get parked together, a bit daamp under foot at first and certainly difficult for some of us that were asked to reverse up a grass bank to park. The day turned out fine for a change a broad selection of cars in attendance. The gardens around the house very splendid another day I think just to take all of it in, the house itself was a marvel of craftsmanship especially the carpentry on the doors and panels. There was some disappointment within the group that the food outlets weren't serving until at least 11am. Departing from the site late afternoon some of us calling in at our usual eating point the Skylark. Good day out well done Donna for the organisation.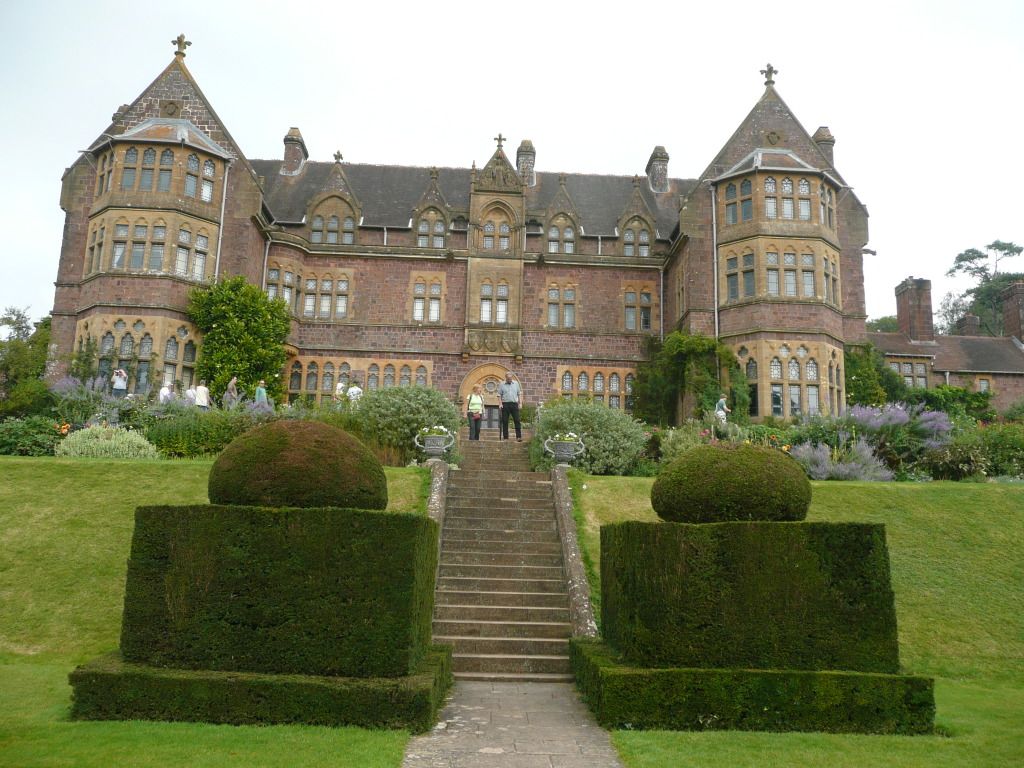 &nbsp
&nbsp
---

Thornfalcon - 2 September 2012
Thirty-sixth lunchtime meeting held at Parklands, Henlade. The group met at the B & Q car-park as planned joined by Alan and Lesley in their TR3. The party of cars included, TR3a, TR4a, TR6, Lotus Elan and TR7 – also Talbot and MX5. Once assembled we made our way to the Mount Hotel grounds at Henlade to be welcomed by our very own marshal Chris next to his TR6. The morning went well with cars arriving thick and fast onto a reasonably firm field. The number of vehicles appeared to be similar to last year. We stayed fairly late and enjoyed ourselves to the very end. Our thanks to Gary, Steve and crew.
---

Pentillie Festival of Speed 25th to 26th August
Five cars set out for one of Somerset Triumphs 'long weekends' and we all met at junction 27 of the M5. We do this sort of thing on a number of occasions during the year just to give a bit of interest outside the county. The weather on the Friday wasn't brilliant but we made our way down into Cornwall under the guidance of Tony Howard who, being native to the area, knew all the back roads. He showed us where he had spent some of his childhood and also helped discover another of our number's grandfather's resting place in Bovey Tracey. Our base for our three nights away was to be a farm near Callington that offers superb accommodation and even better breakfasts in beautifully converted farm buildings.
The weather on Saturday could only be described as 'horrid'; some of the worst weather that many of us could ever remember on a day out. We were booked to visit the Pentillie Hill Climb but on arrival alarmed to find we were perched on the shoulder of a steep grassy hill with the reality of a difficult and slippery exit. Boy, were we right! The hill climb itself proved to be a victim of the weather. The track surface was brand new and the wet made it a skid pan so no fast times could be set and those that did try came to grief. The track was closed for well over an hour while broken cars were removed and barriers repaired; even the vehicle getting more straw bales got stuck in the mud which added to the delays! It was a disappointment for us but must have been a tragedy for those who has spent do many months organising and arranging the event which with decent weather would have been superb.
Sunday proved a much better day weather-wise; we actually got the hoods down. Two of the cars went off to see if the second day at Pentillie was possible and/or another event near Looe but both proved to be victims of the weather so a drive around that part of the coast was conducted during which they bumped into one of the Devon TR Register crowd that we know. The other three cars visited Morwellham Quay which included a trip on a train into the old copper mine. It was a most interesting day helped no end by a most entertaining and knowledgeable young lady dressed in Edwardian costume who gave a commentary on three of the sites within the area. I think our favourite was at the school house where we were all the pupils, had our fingernails inspected before being allowed admittance, told to 'sit up straight and no talking' and even conducted through a session of Victorian PE!
Bank holiday Monday and the rain was back. Sadly Tony and Anne left very early before any of us could thank Tony for all the hard work he had put in organising things and also to book the excellent accommodation and superb venues for the meals we all enjoyed in the evenings. The rest of us made our ways back to Somerset separately, either directly or via places of interest. All in all a most enjoyable weekend despite the weather.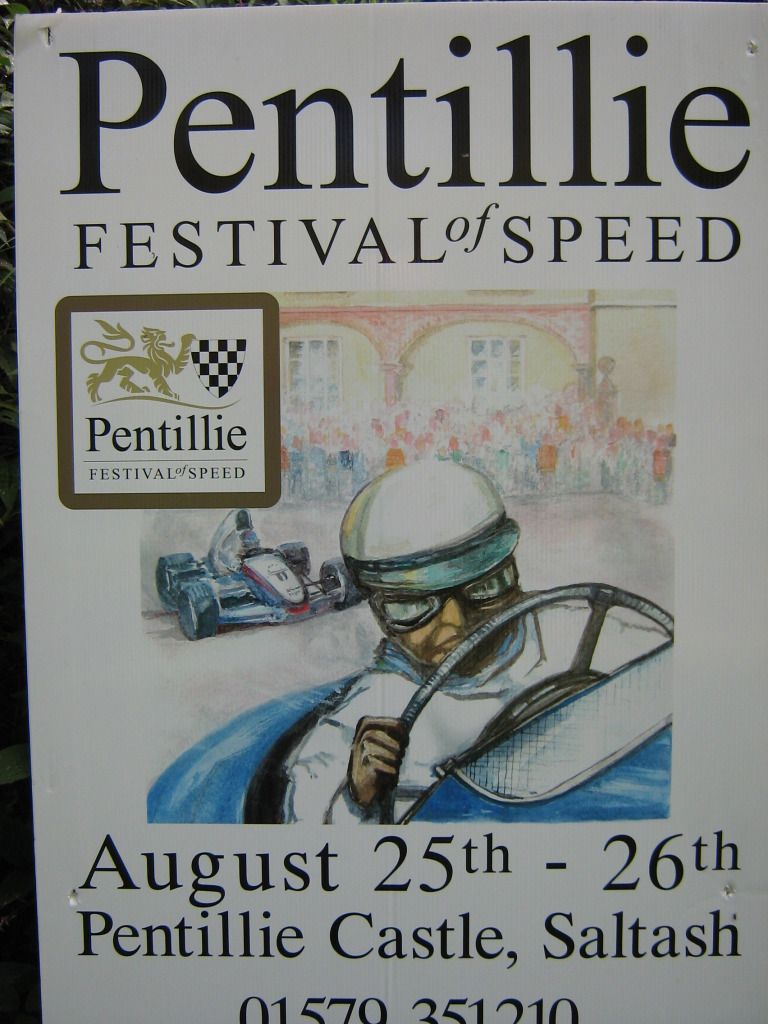 &nbsp
&nbsp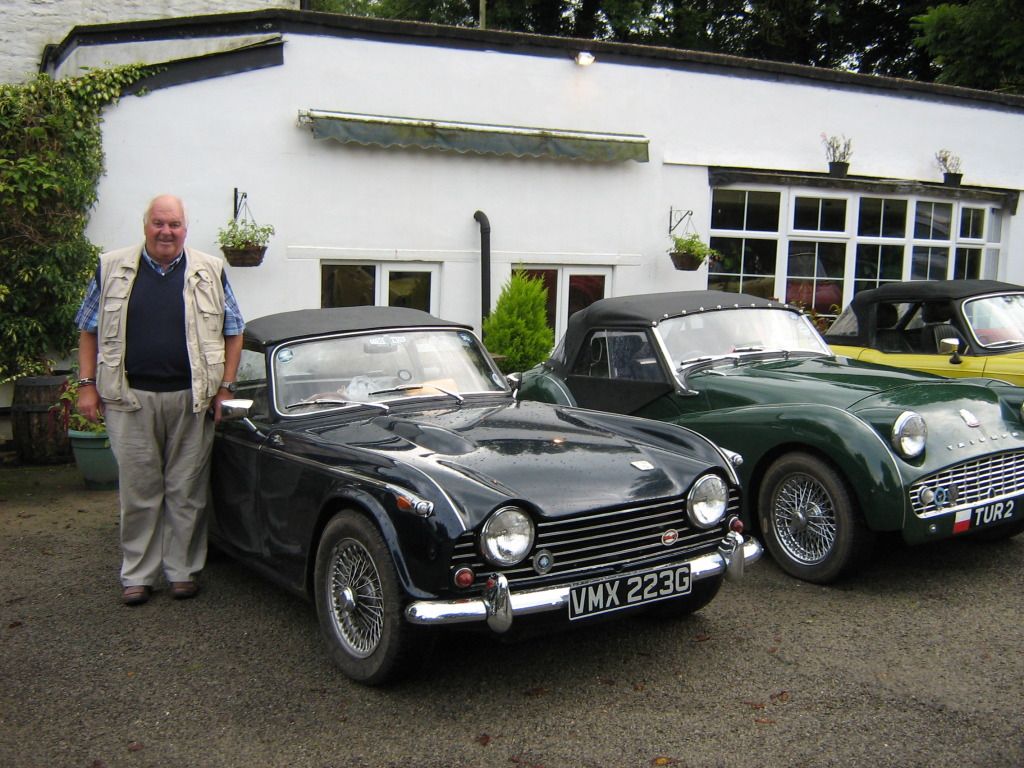 &nbsp
&nbsp
---

Bridgwater Classic Vehicle & Vintage Show 11th August
Well it was a good call to change our attendance to this annual event from the Sunday to Saturday, 5 cars met up in the BIBIC layby and made their way to the Morganians Rugby Club joined later my 2 others, John had to stop off for provisions. The day turned out to be one of those rare "sunny" days this year, there were lots to see and eat as some found. After a very tiring day some of us departed for a meal at the Admirals table and then all going our seperate ways having had a thorughly pleasant day out.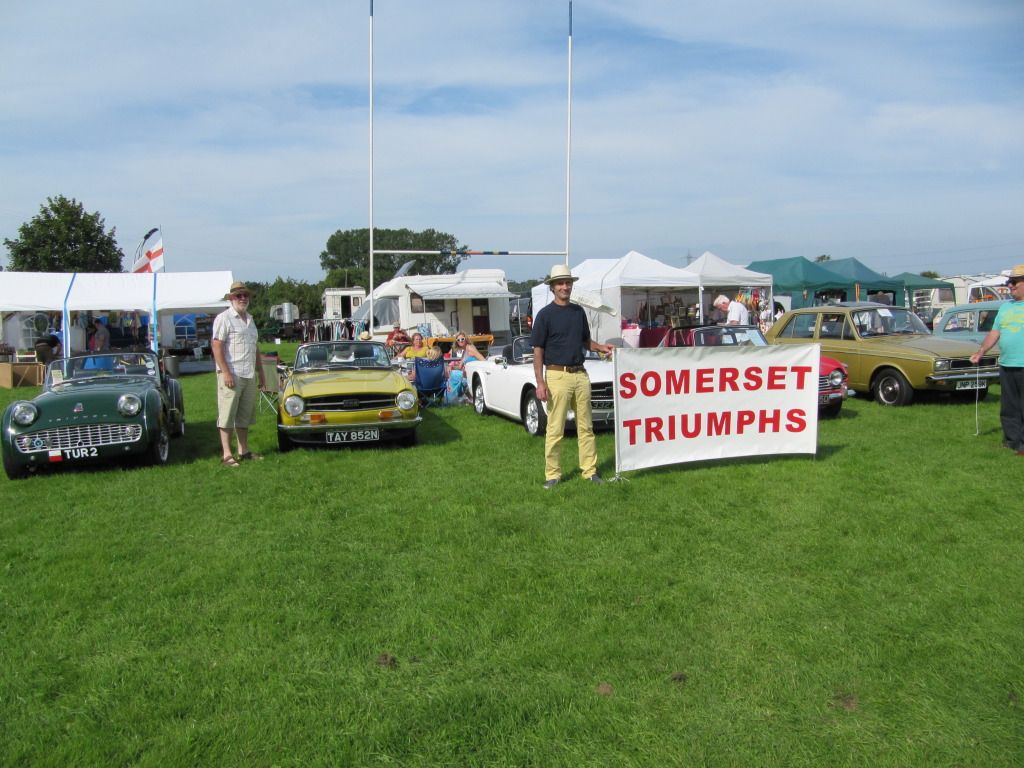 &nbsp
&nbsp
---

Somerset Triumphs at Forde Abbey 26 July 2012
Most of the group met at Helen and Mario's for morning refreshment and banter. Tony led the convoy attired in vintage Hermes French blue bandana tied jauntily around his neck. One can only assume he had taken lessons to tie the knot at Liberty's scarf hall! What a fantastic day – our usual compliment of TRs –(did anyone count the numbers?) about 15, along with Imp, Stag, Hillman, MG, BMW and MX5. This year's mid-week show is now at capacity and with talk of limiting the numbers – so consider your vehicle carefully for next year. A most agreeable day in sheltered, shady position, adjacent to the Bog Garden. Girls off shopping and boys dispensing knowledge. Waving to Crash Box and Devon TR Register on the left bank. What more could one want – good weather, good food and good company. Again our club Hitchcock-Kubric-Schleisinger film-maker, had been let loose with his roving eye – so you may choose to watch the results. As the day came to an end many of us made our way to the Stonemason for supper.
Our thanks to Forde Abbey and Marie Curie.
Write up by Dave. Nice shirt Chris.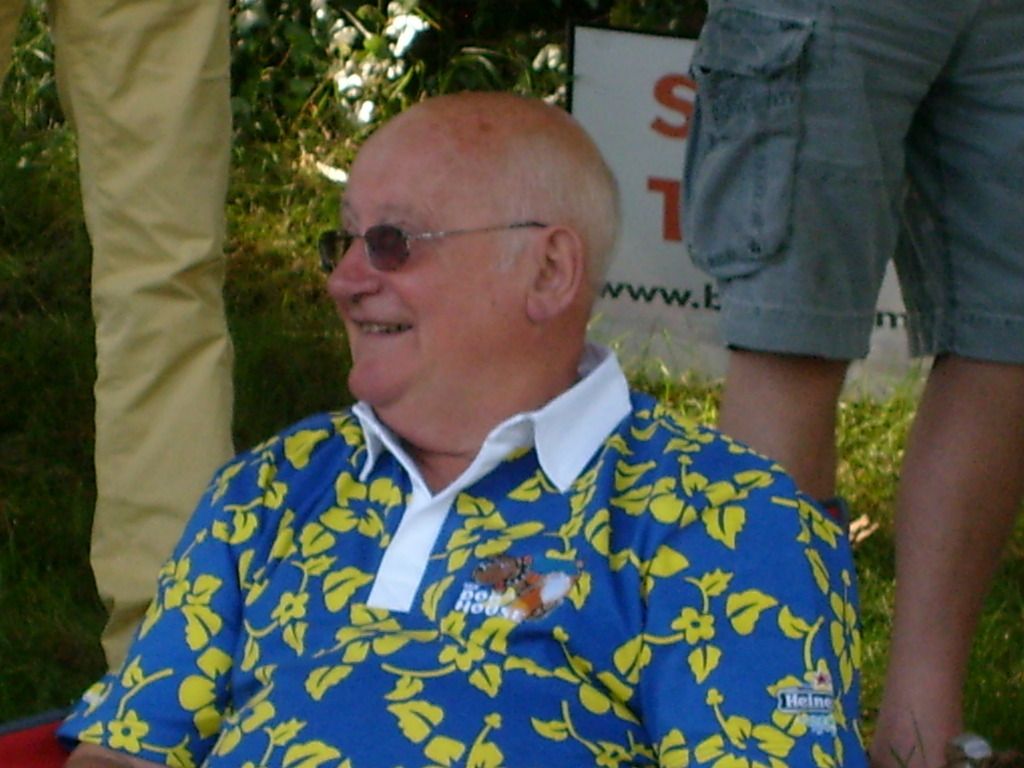 &nbsp
&nbsp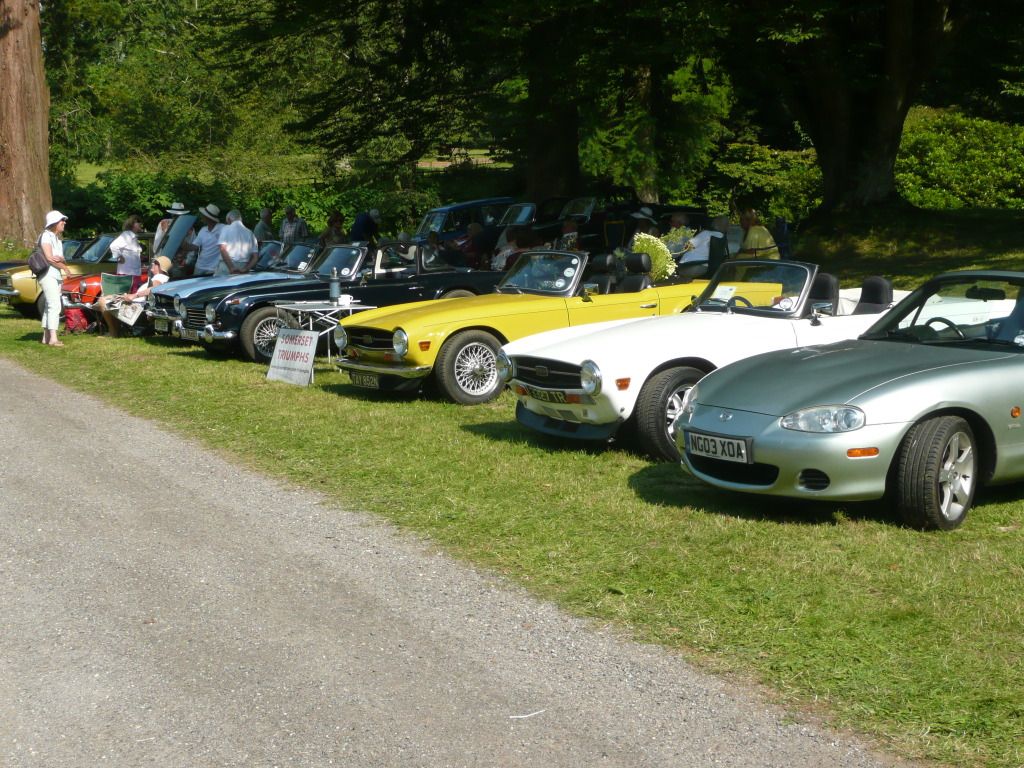 &nbsp
&nbsp
---

Culmstock Wheels in support of the NSPCC – Sunday 1 July 2012
An improvement in the weather encouraged a fine turn out of cars at the Beambridge layby meeting place - TR3, TR3a, 2 X TR5, 3 x TR6, TR7, Elan, MX5, MGBgt and Alvis. The usual meet and greet of the morning and the weather beginning to warm, we drove off to the show held at the new venue – Oakdale Farm. Entrance to the site was a bit messy as one would expect following constant rain of late. Once on the grass and greeted by Donna, the cars formed a line from the King's Imp (which failed to stop at our agreed meeting place). Later joined by MGF and Avenger. The ground being spongy in places did not deter a good turnout of vehicles and very large auto-jumble/car boot in adjacent field. Just a few drops of rain in the middle of the day but the temperature dropped away during the afternoon. Plenty to do and see – Devon TR Register and Crash Box members parked nearby. The show came to an end with some returning home and the remaining party travelled back to the Skylark for supper. I cannot fail to mention some stylish diagonal parking by JS-P Lotus driver – perhaps a change of transport is required – may I suggest the Atkinson Viewline with deep windscreen and wrap-around quarter-glasses.
Our thanks to Donna and team. P.S. I like the hat Dave.

&nbsp
&nbsp
---

Castle Combe Classic & Sports Cars Action Day Saturday 30th June
Four cars (TR5, 3 TR6's) travelled to Castle Combe on the Saturday, meeting up with the Brunel TR Group, Chris and Ann in their TR4A joining us later, Weather was very kind to us whilst at the track only had one short sharp shower but one of our group forgot to put his hood up resulting in very wet seats, this is what happens when you go shopping!! There was a good turnout of cars and the wet surface resulted in some spectacular driving on the track that is if you were brave enough to take your car round, which one of us did, well done Dave he certainly enjoyed himself taking his TR6 around the track if not a bit hairy at times with other cars. A good day was had by all, the weather travelling home turned horrid on the M4.
Will we ever get a summer this year!!!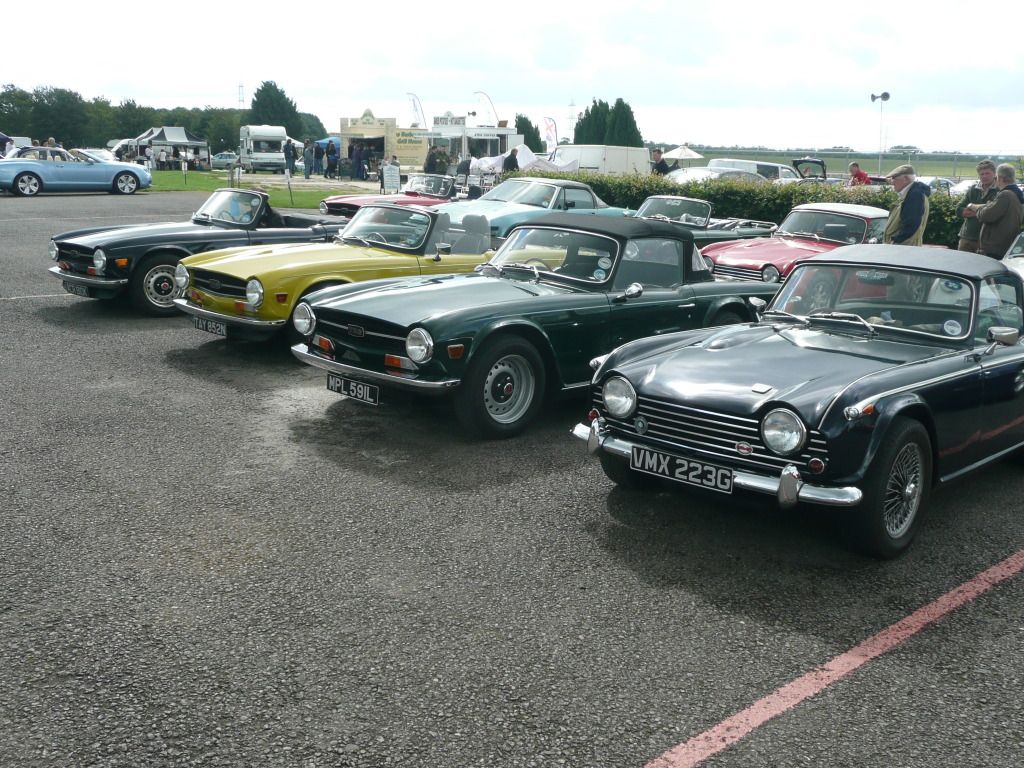 &nbsp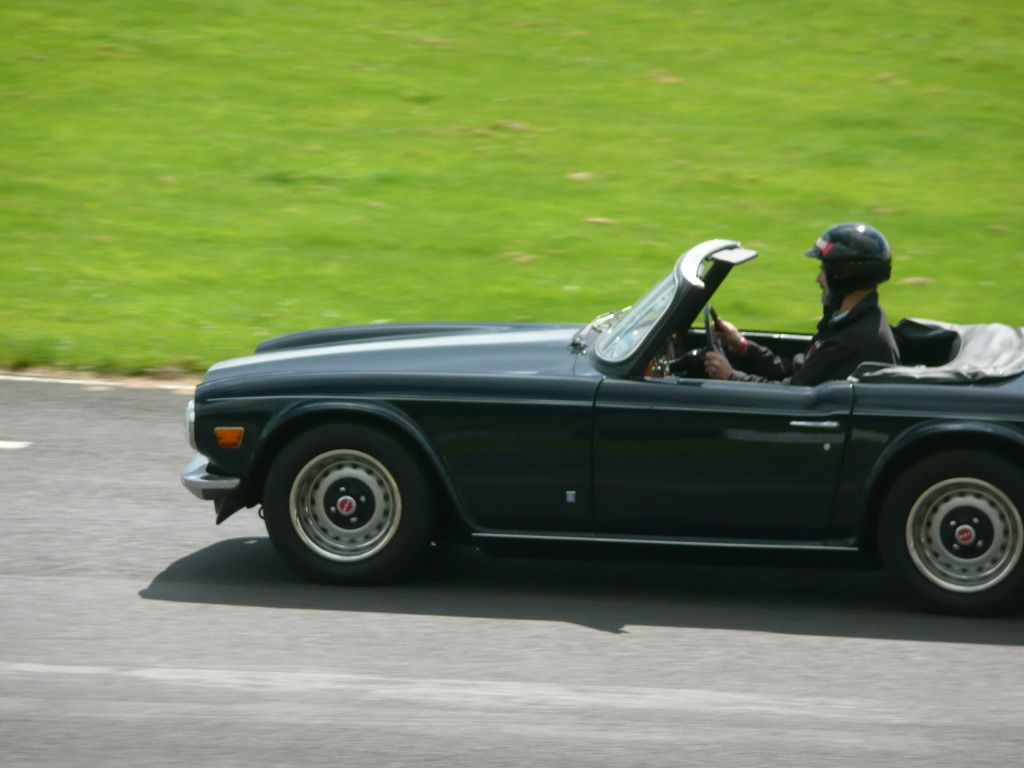 &nbsp
---

Charmouth 23rd June
Seven cars (3 TR6s, TR4A, TR5, TR3A and MGF) met at B&Q car park Taunton at 9am after a general catch-up on events Mario led off about 9:30 over the Blagdon Hill heading towards Charmouth and the Triumph 2000 2500 2.5 Dorset National at Newlands Park Holiday Centre, parking up on the grassy slope we enjoyed a very pleasant day, picnic consumed, pint of tribute in the bar and a good look around the Triumphs displayed. A few decided to head off for a walk to the sea but found it rather bracing by the front. Some tried to guess the name of the Fluffy Bunny all proceeds from that and the raffle going towards the RNLI. Departed the site about 4:30 some headed home others called in to The Stonemasons, Ilminster for a refuel before heading home, as usual this year we did not escape this lovely British WET weather. A good time was had by all. Click Here to see a short video of the day created by Chris.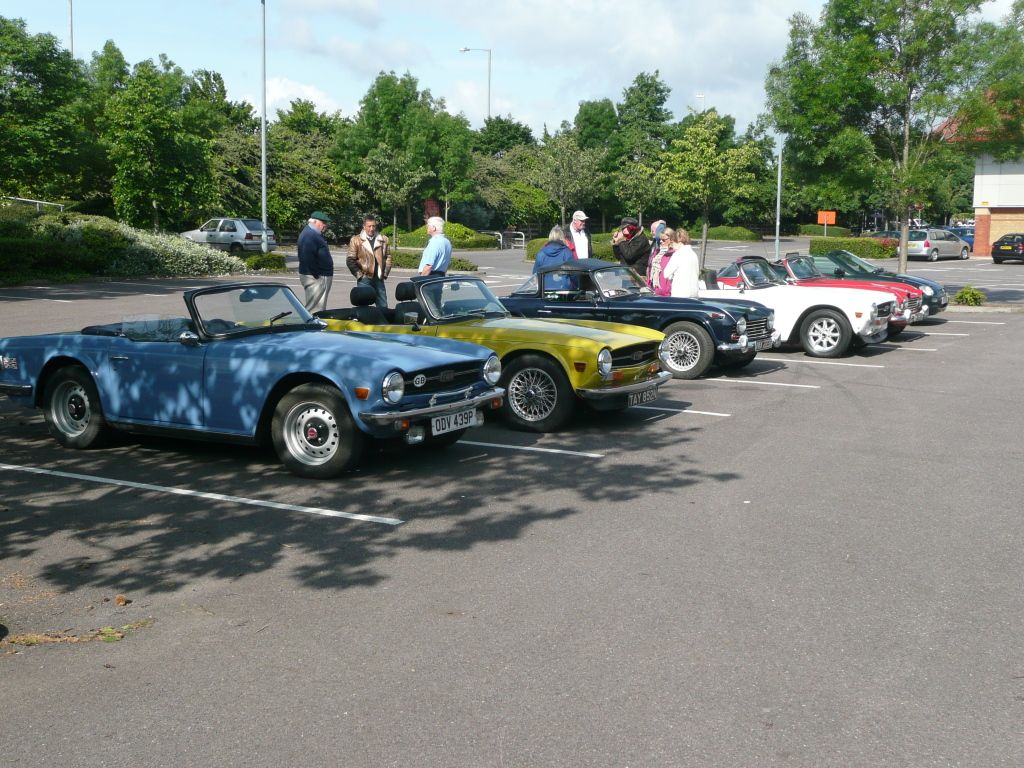 &nbsp
&nbsp

---

Killerton 27th May
Five cars went to the show should have been six but one member got the wrong date hope he didn't get too far before realising his mistake, not had any notes from those that attended just a photo supplied by Helen.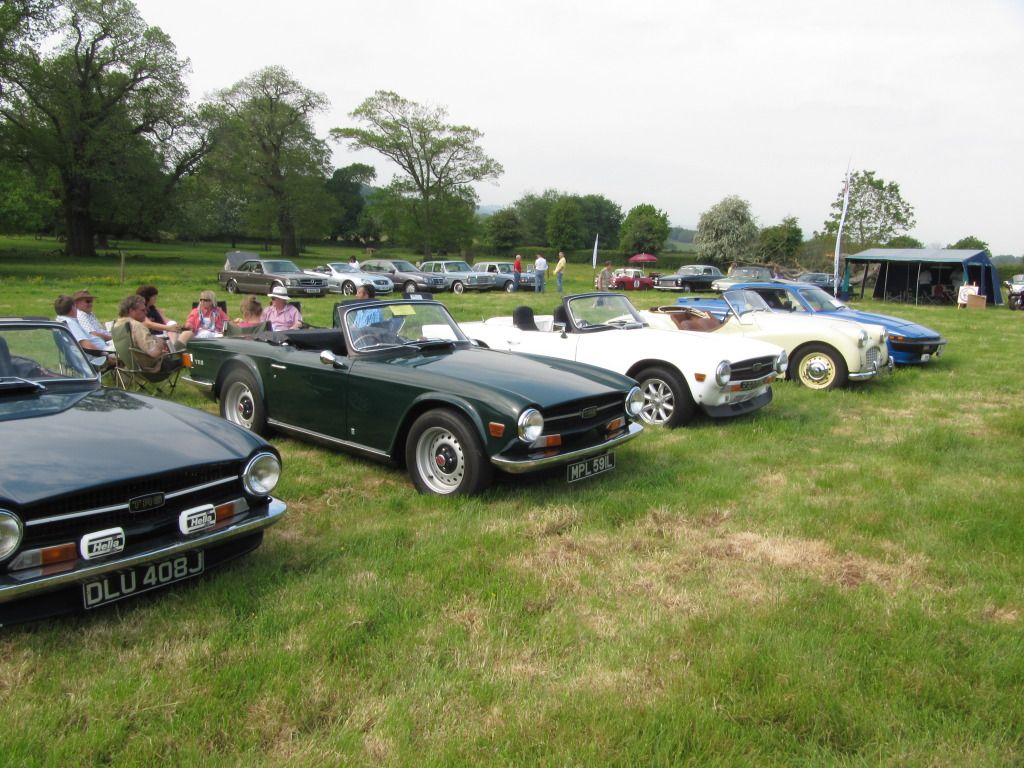 &nbsp
---

Jersey International Motoring Festival weekend 25th to 28th June
Thursday 25th six cars met up at 9:45 in a layby just outside Ilchester (2 TR4A, TR6, MGB, Mazda MX and Honda Civic) we then set off to catch the ferry at Poole, very good trip down to Poole led by Tony and Ann, weather was glorious for once this year. Crossing turned out to be a bit rough for some, high swell and fog most of the way fog horn going all the time. Arrived and departed the ferry about 6pm to the Westhill Hotel checking in and chilling out until dinner. The next day we travelled down to People's park to see what was going on and collect plaques that Tony had arranged, we were invited to the welcoming marque where drinks and sandwiches were provided. Friday night was cavalcade and sprint night, Chris and Ann in their TR4A went in the cavalcade whilst the rest decided to leave the cars at the hotel and travel down on the bus for the sprint racing. Surprising that this year there was only one stall selling food so some went and found a "chippy" in St Helier.
Saturday started off badly for Margaret who had fallen in the shower with suspected broken wrist after a trip to the hospital it was confirmed and suitably plastered. After the rest of us had a good breakfast we headed off to People's Park for the first day of the hill climb, due to the date change (clashed with Queens Jubilee) the entries were down by 50% and the organisers had arranged for other attractions on the field i.e. motor cycle stunt teams and wall of death ride which resulted in a much smaller area to park, cars were therefore so close together it was difficult to walk round, despite this the weather was excellent and many got more of the sun than they should. The second catastrophe of the weekend Sue managed to scold herself with hot coffee/Tea and had to attend the medical centre. The day ended with us all meeting up with Tony and Ann's daughter and granddaughter at the Old Smugglers Inn for a meal.
Sunday we decided to have a run out round the island as we weren't going to end up squashed on the field again, travelling along the coast stopping at Corbiere Light House, El Tico for coffee, Gronez travelling onto to Le Mare Wine estate for a much sought after cream team where we were treated to "Black Butter" then back to the hotel to get ready for a meal at the Old Porletet Inn together with Tony and Ann's family.
Monday saw us chilling out waiting for the ferry departure where half the group were traveling back to Poole whilst the others were getting off in Guernsey for the next four days.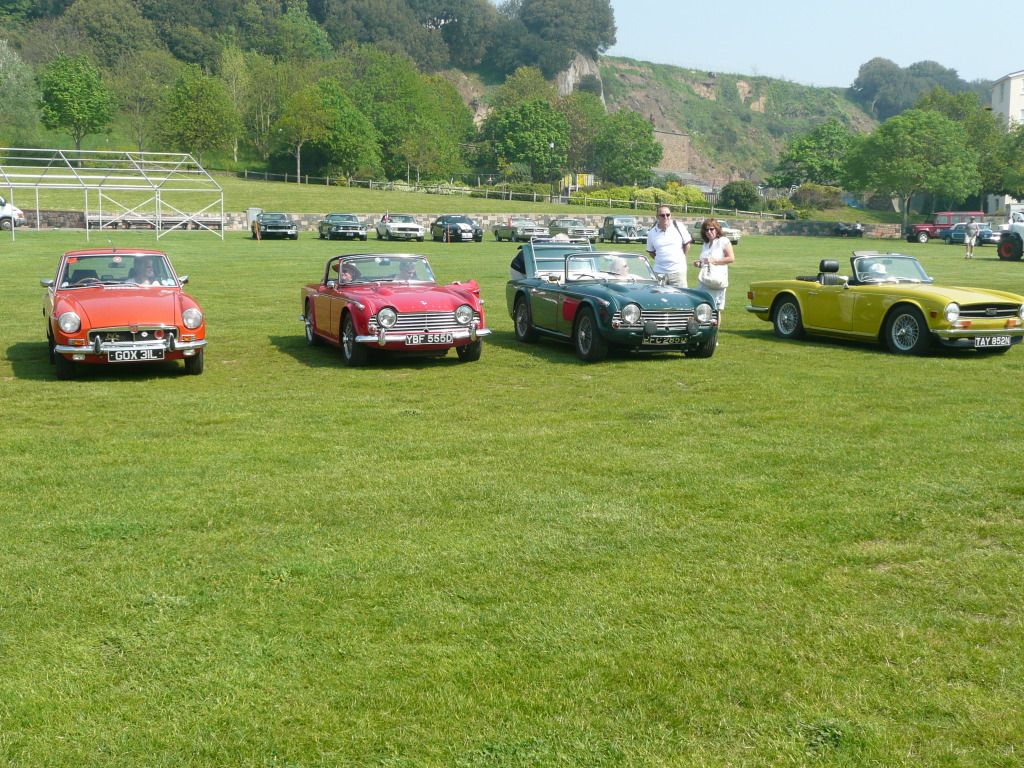 &nbsp
&nbsp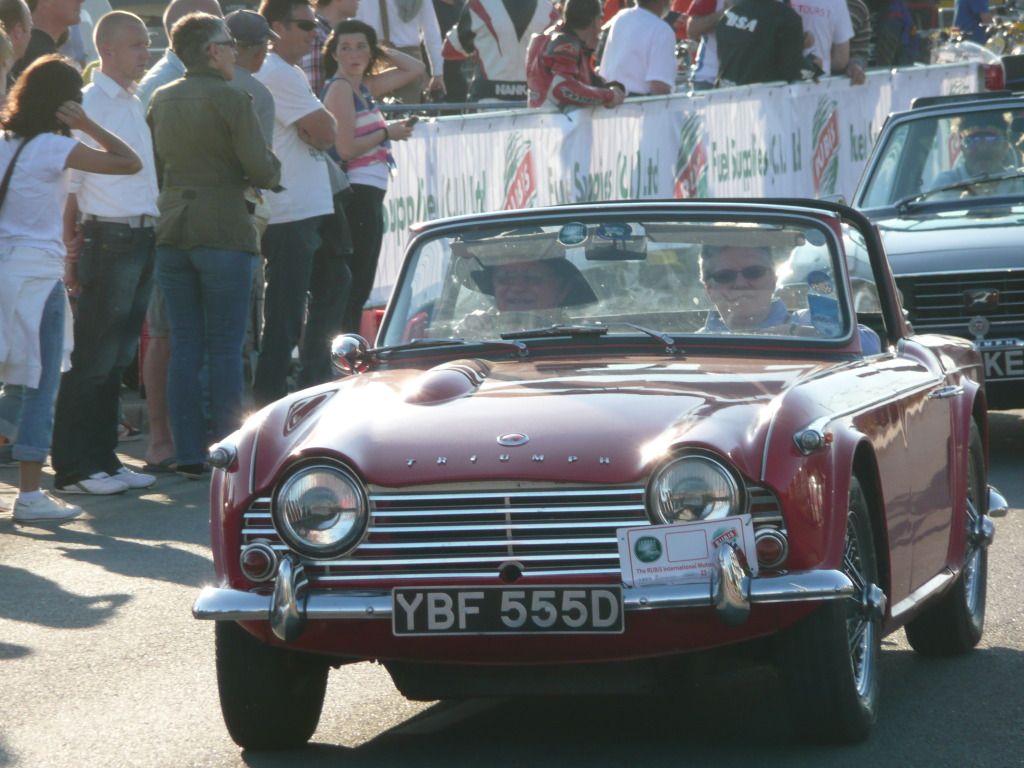 &nbsp
&nbsp
---

Standard Triumph Marque Day @ Prescott 20th May
There were 5 cars (4 TR6's plus Triumph Dolomite) that travelled up to the Sunday event, four of us met at Sedgemoor Services @7:30 catching up with the fifth car on the way, stopping for the obligatory breakfast at Vale Truck stop, suitably refuelled we travelled up to Prescott taking the scenic route by TOMTOM. Mario and Dave did the hill climb in their TR6's with passengers along for the ride and Mark's dad managed a ride with John Weedon in a special TR5. Everyone enjoyed themselves lots of cars to see and watch, Helen and Sue finding the best vantage location in the warm despite the day being cold and windy but most stuck it out until about 4pm before calling it a day and heading back home.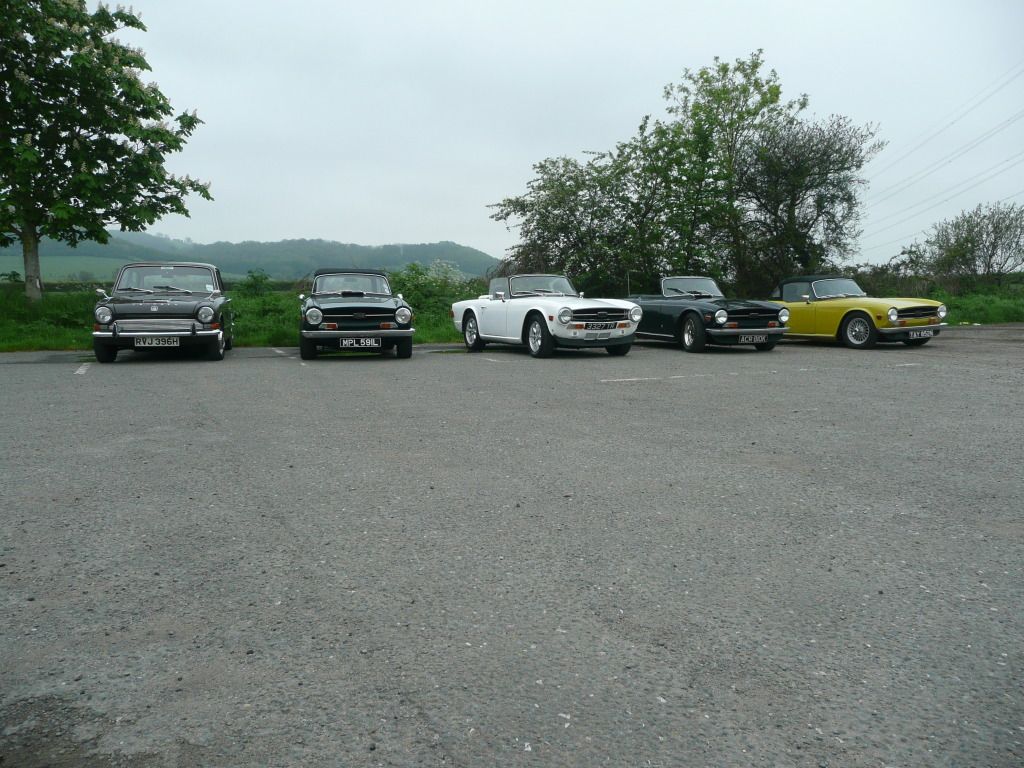 &nbsp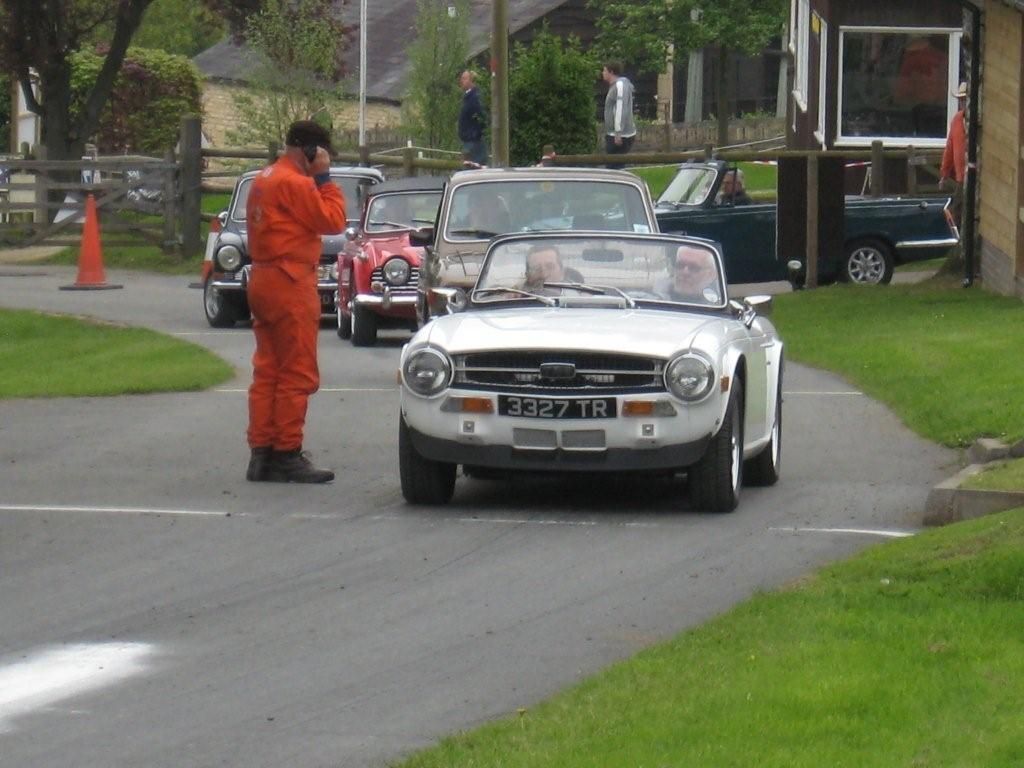 &nbsp
&nbsp
---

Donington Historic Festival weekend - 5th & 6th May
Two cars travelled up to this event, joining the TR Register group where parking was a bit tight. Very good weekend lots of cars and racing to see. Thanks to Tony, who had organised a hospitality suite Saturday was cold and windy but Sunday turned out fine and we enjoyed a period of sun.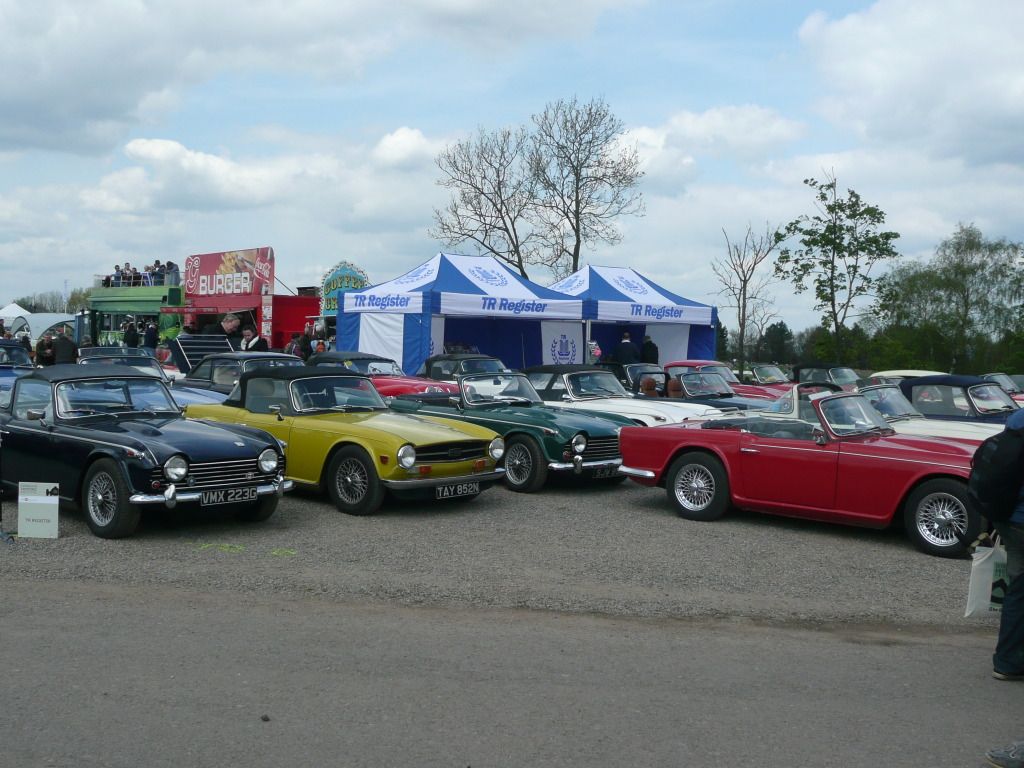 &nbsp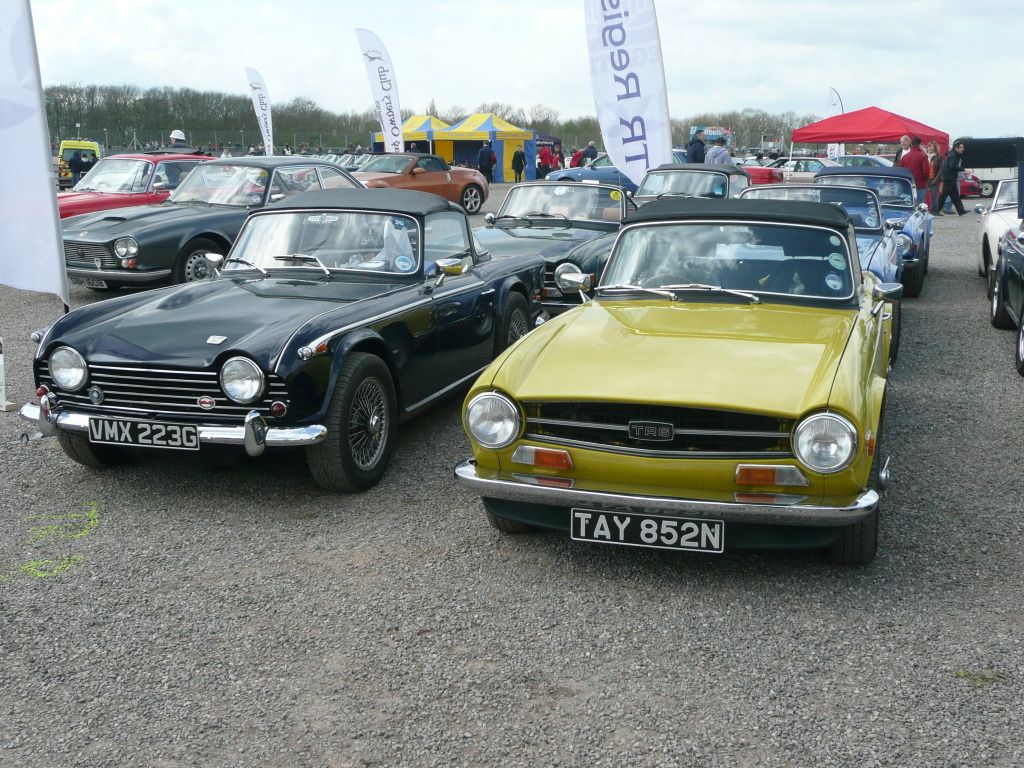 ---

Driveitday 22nd April – Brimar Vintage and Classic Car Run
Six cars turned out to meet at Sanders Garden Centre for what turned out to be a very wet day, with the majority of the cars heading off to Weston Lawns we decided due to the weather to branch off, meeting up in the car park at the Fox and Goose, Chris and Ann then lead the way across the Somerset levels ending up at the Camelot Inn, Glastonbury for lunch. Despite the weather we all had a good day out.
---

Cornwall trip April 2012
What a wonderful long social weekend we have just had as a group in Cornwall. There were 8 cars but two of us, for various reasons, had to use modern machinery. The B&B in Boscastle was superb and we all probably ate too well. Travelling down on the Friday from Somerset some of us stopped off at Dingles to enjoy the Fairground Museum whilst others went on to Jamaica Inn then onto The Kings Head at Five Lanes for a spot of lunch before travelling onto The Old Coach House in Boscastle our accommodation for the weekend.
Having refreshed ourselves we all met up for a meal at the Napoleon Inn in Boscastle in the evening.
Saturday was wet for some and sunny for others. Those that went for the steam trains in Bodmin or walks round Boscastle got wet whilst those that went to Falmouth found sunshine, that soon changed on the way home with torrential rain so we called in at The Falcon Wadebridge for tea to escape the rain; Cornwall's like that. The other 2 cars had a scenic drive and met up at the Falcon for a meal.
Sunday was a much nicer day with 2 cars going to visit the Eden Project, another to a car show near Callington; the other 3 cars went off to Rock then stopping at Polzeath Beach for tea, having asked a local to recommend a nice place to eat we headed off to The St Kew Inn for a carvery very nice to, finishing off down in Boscastle for a cream tea. Most of us then met up in the B&B lounge for drinks and natter.
Monday we made our way home. Chris & Ann stopped off at Morewelham Quay, the 19C premier copper port in Queen Vistoria's empire that is frozen in time. It is a fascinating place near Tavistock and 23 miles up the Tamar made famous recently by being used as the location for BBC's Edwardian Farm series. We visit the copper mine on a train and I made some rope! The remainder of the group headed back along the coast road stopping off at Widemouth Bay and Hartland Quay then to the Skylark for food before going our separate ways home, a fine finish to enjoyable weekend away with friends.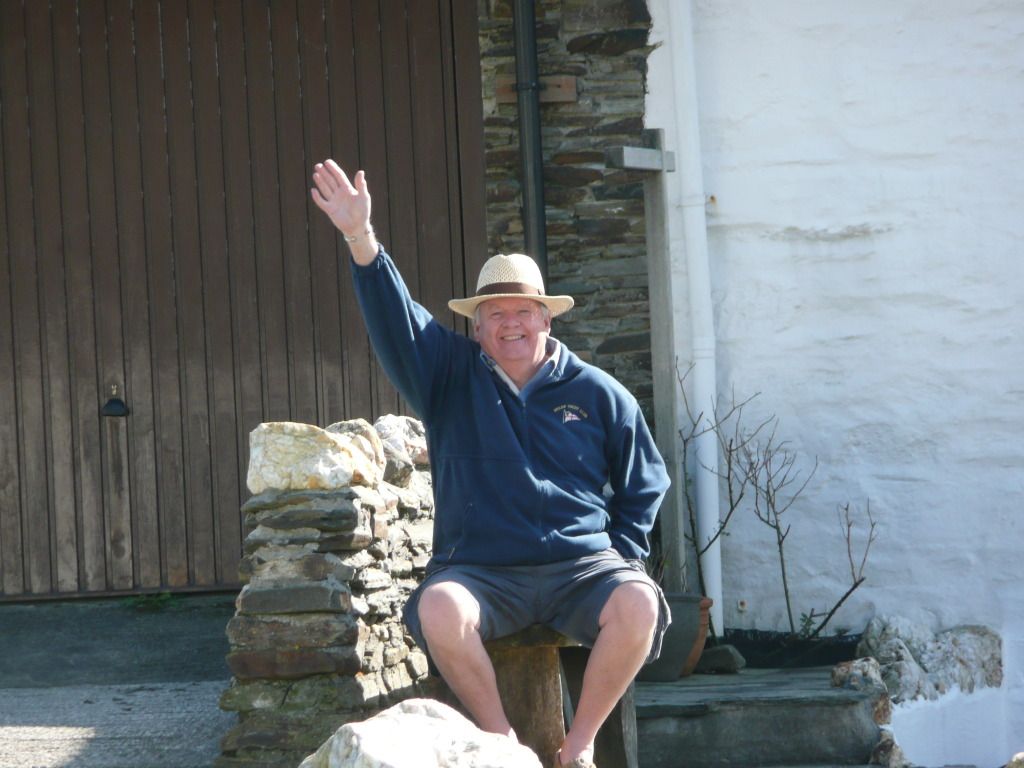 ---

Sunday Lunch The Ashill Inn 25th March
Thanks to Helen and Mario for suggesting this venue, 17 attended, we had 8 Classics and a normal car. The weather was splendid, sunshine a really nice spring day, sitting in the pub garden enjoying a catch-up with friends and all, hoping that this was the start of good things to come. The meal was exceptional, quality and quantity you could not have asked for more, I think all were feeling very "stuffed" afterwards but all things have to end and everyone went on their merry way praising the staff and pub on a memorable Sunday lunch.

---

Sunday Run 26th February
We gathered at Sanders Garden Centre and after a leisurely cup of coffee realised we had no real idea of where we wanted to go. I suggested a route and in the light of nobody having a better idea everyone followed me! I took them all along the Weston sea front, which was surprisingly congested, but it was a nice clear day and pleasantly mild for late February. We travelled as far as the Old Pier and Anchor Head and then travelled inland along Worlebury Hill with views over Weston bay. I managed to lose them all going out of Weston but having collected everyone back together we made our way out through Banwell then up Burring ton Combe . This allowed a scenic trip across the top of Mendip through Charterhouse, Velvet Bottom and down over Deer Leap into Wells. We finished off with a pleasant lunch at the Camelot halfway between Wells and Glastonbury.
---